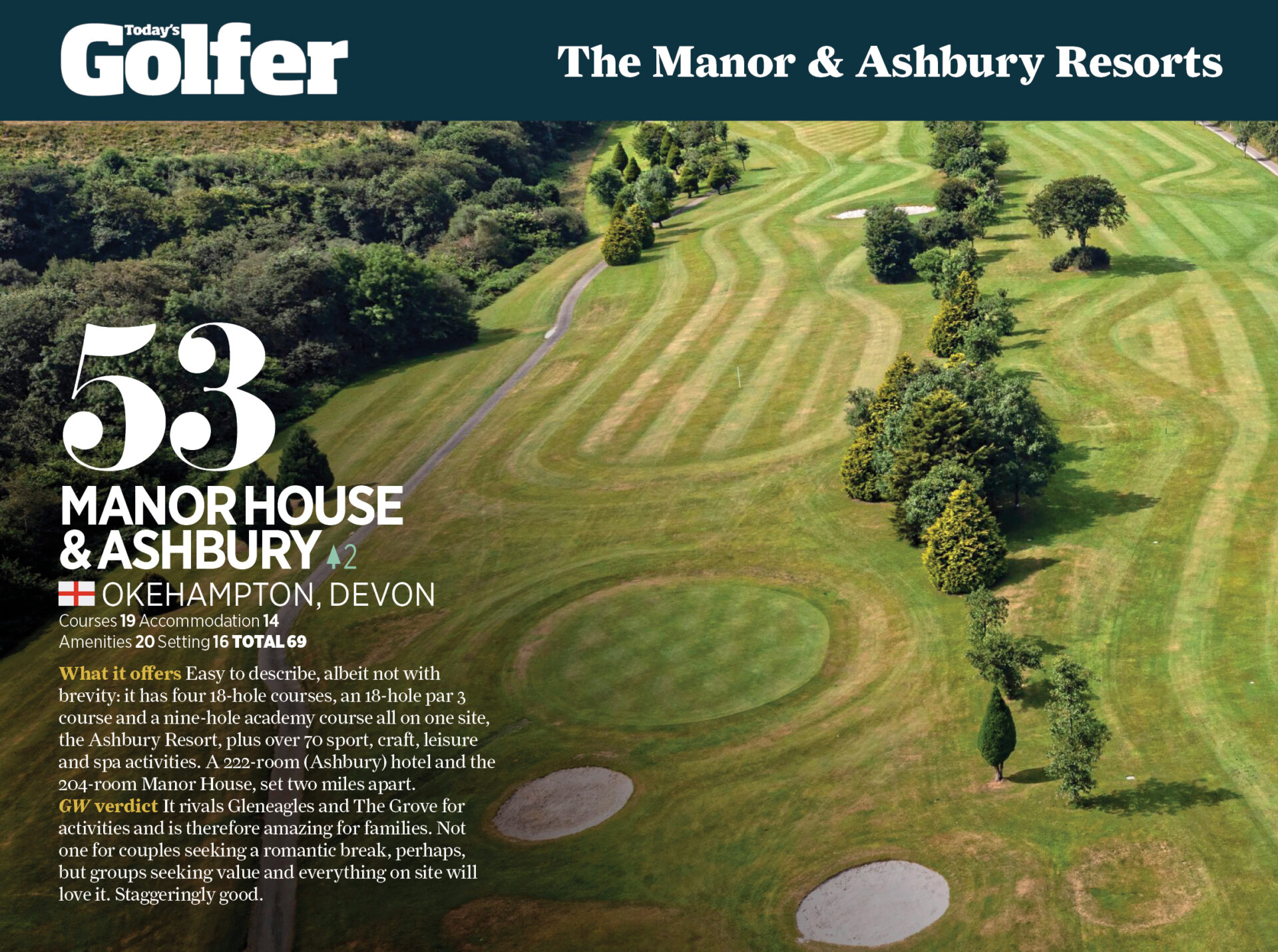 THE ULTIMATE FAMILY VENUE
There is never a quiet moment at this actionpacked, great-value resort…
If you're looking for a relaxing, get-away-from-it-all break with fine dining, tranquillity and little else but a round of golf now and again, turn the page now. Manor House & Ashbury is probably not for you. If you've got children who love to get stuck into activities or golf friends who delight in Ryder Cup-style competitions between eight people teams, don't dare leave this page. Manor House & Ashbury is arguably the best-defined resort in the entire list. It's the Ronseal of golf resorts; it does exactly what it says on its website.
'The Manor & Ashbury Resorts offer a break like no other', they announce. And they're right. The list of activities on there is bewildering. Even the most hyper of kids will surely feel a little fatigued on an evening after spending a day at this resort.
Set in the heart of Devon, Manor House & Ashbury also makes things easy for you. Once you've booked, other than for a drink or two, your wallet is not needed again. You get full board; all your meals throughout your stay. You get free golf; 27 holes with each night of your stay. You get free hydro spas; saunas, steam rooms, hydro pools and so on. You get free sports and leisure activities; up to 60 every week.
You get free craft tuition; you only pay for consumables in 20 classes. You get free family facilities; fun house, pedal karts, water slides and on. Each week their programme is filled with organised activities run by our experienced instructors – from archery, air rifles and air pistols to racket sport competitions, bowls competitions and team sports in busy periods.
Oh, and don't forget the golf. Ashbury is one of the largest golf resorts in the world, with an incredible choice on offer. You can stay for a week, play every day and never get bored. The Kigbeare course is regarded as the No.1, but all four offer a fine test and there are great views of Dartmoor across the Devon countryside. It has the star hole, the 3rd being a wonderful 205-yard par 3. This aesthetically pleasing short hole drops 50ft from the tee to the green, with your ball having to carry 180 yards to clear 'Hookmoor Brook'. The green is surrounded on three sides by large, mature trees with a steep bank rising behind.
Maybe you have a child who loves golf and will enjoy tackling it with you. If they don't, you can be assured that they will find plenty to entertain them at Manor House & Ashbury while you play golf…