Great Value Golf Holidays in Devon
If you're looking for the perfect golf holiday, then look no further. Ashbury is more than just a golf hotel. With an outstanding 103 holes, we are the UK's largest golf resort, and furthermore the 9th largest in the world. With four 18-hole courses our resort offers new challenges every day. Our courses are ideally complemented by our academy course, and 18-hole par-3 – both perfect for beginners.
We believe that our incredible choice, both on and off the course, ensure that we are offering the number one golf breaks in the UK.
Stunning Southwest Golf Resort
Our golf resort is set amongst 500 acres of beautiful scenery, boasting breath-taking views of Dartmoor and the rolling Devon countryside. Each course has been thoughtfully designed using the natural features of the landscape and provides something different during your golfing trips. Challenging Kigbeare offers well-designed risk and reward holes, while Beeches requires careful, considered gameplay and spectacular views. Meander through tree-lined fairways as you take on Pines and cautiously manoeuvre well-positioned hazards on Oakwood.
Play 4 completely individual courses during your trip, without ever leaving the resort – undoubtedly a unique experience for any player.
All Inclusive Golf Packages
Perfect for weekend golf breaks, a few last minute nights away, or a long-awaited holiday, we have packages to suit everyone. Whichever trip you choose, enjoy great benefits without the luxury price tag, such as all-inclusive golf, extensive practice facilities and great value buggies.
All golf breaks feature:
18-holes of golf on your arrival afternoon

27-holes of golf on each full day

18-holes on the morning of departure

Warm-up areas and practice nets

A fleet of over 400-buggies*

Access to our fitting studio*

PGA Professional golf coach*

Well-stocked golf shop*
*charges apply
Away from the Courses
We offer more than just golf at The Ashbury. Our resort proudly delivers over 50 different sport, craft, and leisure activities – all available during your stay.
Our state-of-the-art hydro spa facilities are included as part of your break, so you can fill your day with golf and spa activities – what better way to relax during your weekend away?
If you're looking for something a little more competitive from your golf holiday, we also offer snooker, ten pin bowling and target range sports, to name a few – all at no extra cost.
NEW for 2023!
We have fully refurbished our golf simulator lounge.
PGA Professional Services
If you're looking to improve your game, then a trip to our fitting studio during your next golf break is a must. Our PGA Professional offers a range of services to help you get the most out of your golfing experience.
If you're looking for golf holidays for beginners, the Ashbury is perfect. We offer short 30 minute lessons, through to longer block bookings.
Head to our fitting studio page for more information.
All Year Golf Resort Holidays
Our talented ground staff keep our courses maintained in peak condition; therefore, we can offer great value golf breaks, all year round. During winter months, we choose our best holes and create custom courses to allow the best golfing experience possible. Read more about this on our All Year Golf page.
Become a Member
Golf membership in Devon does't get much better than this.
We have a range of different membership options available including intermediate and junior membership. Join today and soon you will be playing on the 9th largest golf resort in the world.
Plus, with resort membership, you will also receive access to our exceptional leisure facilities including out hydro spa, swimming pools, racket sports and snooker.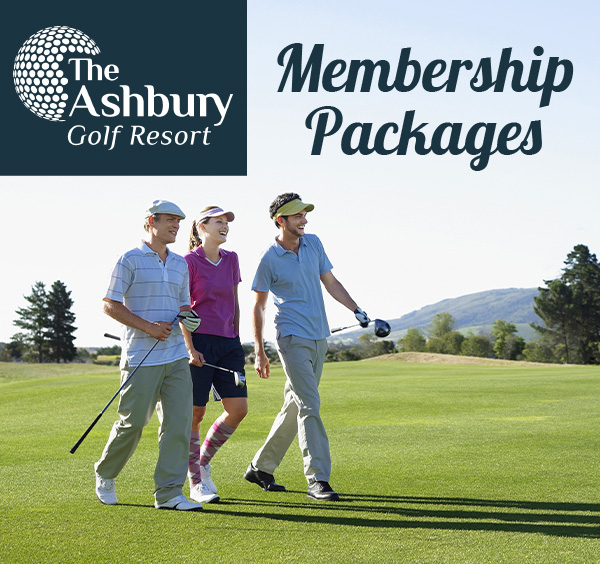 Please note:
Before using our courses, we advise all golfers to make themselves aware of our Course Health & Safety Advice 
For those visiting during the winter months, we also recommend reading our Winter Golf Policy
Whilst handicap certificates are not required, we ask that all golfers uphold the standard golfing etiquette, speed of play and dress code while on the courses – no jeans, trainers, sports shorts, t-shirts or vests.


In line with England Golf, the Ashbury Resort is committed to ensure that the sport of golf is one within which all participants can thrive in a safe environment and that everyone has an enjoyable and positive experience when playing.
The Ashbury Resort has achieved the SafeGolf standard as awarded by England Golf. Ashbury Golf Club's Welfare Officer is Greg Asher (golfshop@manorashbury.co.uk)
Safeguarding Policies