Join Our Team
If you are interested in a role/career with the Manor & Ashbury Resorts, whether that be, front of house, preparing food in the kitchen, serving our guests in the restaurant or working behind the scenes to make everything run smoothly, then please get in touch, we'd love to hear from you! We have many departments within the Resorts, namely: Waiting and Housekeeping, Activities, Craft Centre, Kitchen, Reception, Accounts, Bar, Greenkeeping, Maintenance, Spa and Night Porter.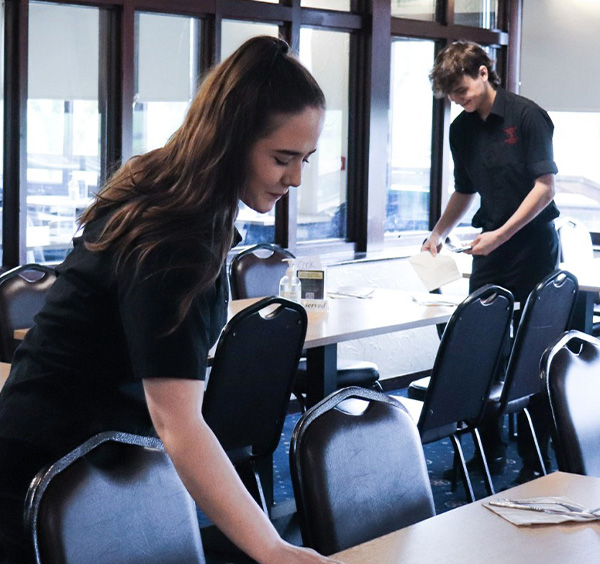 Careers at The Manor & Ashbury
We are passionate about looking after our staff and creating a friendly, yet productive work environment. Our team comprises of over 250 members of staff, all vital in making the business run efficiently. Many of our team have been with us for over 10 years, some have been with us for over 30 years!!
We offer an array of amazing benefits, including; competitive starting rates of pay, heavily subsidised facility membership, annual golf membership for an amazingly low fee, company pension scheme, a higher rate of pay for weekend work, complimentary staff meals during breaks, death in service benefit, and weekly pay.
We also have on-site Staff Accommodation, with very reasonable rent charges, so even if you are not local to us, there is still the potential to 'live-in' here at the Resorts, enabling you to not only build a career with us but also build a life in our beautiful area.
If you are interested in a career with us please email your CV and a cover letter to chris.rushton@manorashbury.co.uk
Housekeeping / Waiting
We are searching for enthusiastic housekeeping and waiting staff to join us. If you have a passion for hospitality and enjoying working in a dynamic environment, we'd love to hear from you!
Kitchen Staff
If you have a passion for catering then we can offer extremely steady, reliable and organised work, within a vastly experienced team. There are various potential positions within the department, and full training will be provided