Golf is game that has captured the hearts of players young and old for generations. For many there is nothing better than heading out on to the golf course for a few hours and enjoying a round or two. Passing this love on to the next generation is something that many players look forward to, but the thought of taking young children out onto the course can sometimes seem a bit daunting. For a first-time outing is 18-holes a manageable expectation? Probably not.
Here at the Manor and Ashbury Resorts, we have always been big advocates for encouraging children to enjoy sports and maintain a healthy lifestyle. We believe that our adventure golf course is a fantastic way to get children interested in golf, without overwhelming them – plus it's great fun for the rest of the family to enjoy too.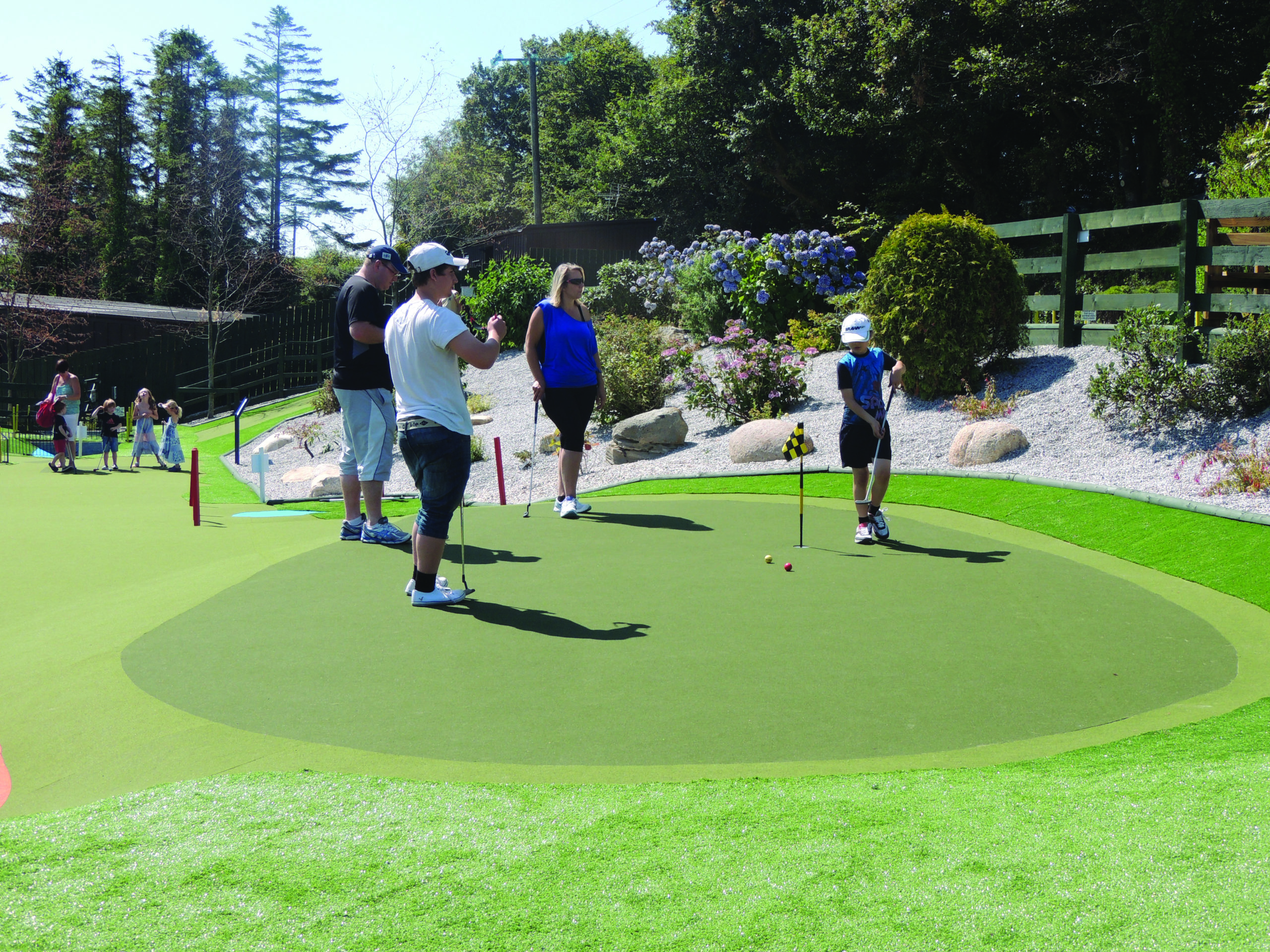 Adventure Golf Course
Our 18-hole adventure golf course is an entertaining and exciting introduction to golf, and a great way to spend time together as a family. We don't have any restrictions on our adventure golf course – everyone is welcome to come and have a go, from great-grandparents right down to toddlers.
Our adventure golf course is based at the Manor Resort, and open to guests to enjoy at no extra cost during their holiday. The course is open throughout the day, weather permitting. Simply head along whenever you choose – perfect if you have some free time between activities, or maybe just as a leisurely activity after lunch – the choice is yours.
All 18-holes are miniature versions of real holes at the Ashbury. Each hole has its own 'mini' tee, green and fairway, plus obstacles including bridges, bunkers, and water hazards – just like their real-life counterparts. Children and adults alike will enjoy navigating the course, battling to be crowned the winner. It's great to start promoting healthy competition from a young age and teaches children valuable social skills, such as good sportsmanship and patience.
Golf, and adventure golf often present their share of challenges – I'm sure we've all been stuck on a hole at some point in the past where we just cannot get the shot and want to give up. Playing together as a family is a great opportunity to demonstrate to young children the value of perseverance, showing them that with determination you can achieve your goals. These lessons go far beyond the golf course and will be invaluable in later life.
The best part of adventure golf is that whilst learning all these fantastic lessons, the children are just having fun and enjoying spending time with their family. The creativity and variety offered by adventure golf will keep young players engaged, encouraging them to return time and again during their stay. These positive experiences are a great gateway for working their way up to the actual golf course. If your children are ready to advance, why not spend some time on our practice facility, or book a round on our par-3 course to get started?
Local Membership
If you are lucky enough to live locally, we now offer Junior Golf Membership for under 18's. Golf is available to enjoy 7 days a week, all year round at the Ashbury Resort. So, when the time comes that your kids are ready to join you on the courses, you can play as much or as little as you choose.